October 4th - 6th 2022 | The Westin Bayshore
Traditional, ancestral and unceded territories of the hən̓q̓əmin̓əm̓ and Sḵwx̱wú7mesh speaking peoples, the xʷməθkʷəy̓əm (Musqueam), Sḵwx̱wú7mesh (Squamish), and səlilwətaɬ (Tsleil-Waututh) Nations

Across the Northern Hemisphere increasingly extreme and uncertain climate conditions, coupled with human activity, greatly threaten the survival of salmon. The International Year of the Salmon (IYS), a five-year initiative established in 2018 and governed by the North Pacific Anadromous Fish Commission (NPAFC) and North Atlantic Salmon Conservation Organization (NASCO), has explored the conditions necessary for the resilience of salmon and people in a changing world. In its final year, the IYS is bringing together participants from academia, government, industry, NGOs and Indigenous organizations to consider the progress made by the IYS, and discuss the actions necessary to enable progress towards these conditions over the next decade. The IYS Synthesis Symposium: 'Salmon in a Rapidly Changing World: Synthesis of the International Year of the Salmon and a Roadmap to 2030' is the culmination of over 13 workshops and symposia, three historic High Seas Expeditions and over 80 associated events across the North Atlantic and North Pacific basins.
The Symposium will be held over three days in the heart of majestic Vancouver, Canada during the splendor of Fall, from October 4th-6th 2022 . This event will be held in-person and provide an opportunity for salmon scientists, managers, and knowledge holders from across the salmosphere to build connections after an extended period of limited travel and virtual meetings. We are monitoring the COVID-19 situation closely and will adapt our plans in case public health restrictions prevent international travel or large gatherings.
Make sure to visit this webpage for more information, registration links, and other updates!
Important Dates for Symposium (Vancouver time):
• April 29, 2022 – Deadline for submission of abstracts

• June 9, 2022 – Notification of selection of abstracts for poster and oral presentations

• August 31, 2022 – Deadline for Symposium registration

• September 2, 2022 – Deadline for booking rooms at the Westin Bayshore hotel for the conference rate (limited number of rooms are available)

• October 4-6, 2022 – The Symposium will take place in Vancouver, British Columbia
There will be an opportunity for Symposium participants to experience the world-famous Adam's River sockeye run in the interior of British Columbia from October 7th - 9th, immediately proceeding the Symposium:
You can register for the IYS Synthesis Symposium by following the link below. Registration costs $325 CAD ($255 USD) per person. Please note that people that intend to participate virtually only (i.e., submit a pre-recorded oral presentation and not attend the Symposium in-person) are not required to register. Registrations are required for in-person participants only. You do not have to be giving an in-person oral or poster presentation to attend the Symposium. There are a limited number of reduced cost registration places available for the Symposium for early career researchers, students and/or people from marginalized communities that have economic barriers to attending the Symposium. If you would like to be considered for a reduced cost registration place, please email symposium@yearofthesalmon.org. Discounted registration requests will be reviewed by the Symposium Steering Committee and places will be provided on a first come, first served basis.

The deadline for registration is August 31, 2022

Registration cost covers:
- Admission to the IYS Synthesis Symposium
- 3 tea/coffee/snack breaks per day over the 3 days of the Symposium
- Admission to and light food during a poster board session on the 1st night of the Symposium
- Admission to and a buffet dinner as part of a harbour cruise evening dinner/networking event on October 5,2022 (night 2 of the Symposium)

The Westin Bayshore Hotel has a limited number of rooms available at the Symposium group rate ($239 CAD/night plus taxes) for rooms (room only) between 3 and 6 October. There are a very limited number of rooms available at this rate on 2 and 7 October, which will be provided on a first come, first served basis through the booking link above.
For those of you who will stay between 2 and 7 October, to access this special rate, please reserve your rooms via the link below:
For those of you who wish to book an extended stay either in advance of, or beyond, these dates you will need to book your rooms directly with the hotel. Please note you need to use the booking code "Salmon" to secure the discount rate for the qualifying dates, i.e., 2 to 7 October.
However, any dates in advance of 2 October, or after 7 October, will be charged at standard rates applicable at your time of booking.
Please note that if you are having issues booking on 2 and 7 October, it is likely that the discounted rooms for these dates are no longer available. Therefore, you will have to book your stay on 2 and 7 October separately through the Westin Bayshore website. We will announce here once all the discounted rooms for October 3 to 6 have sold out.
Please note that your credit card will be required for booking, but payment will not be processed until arrival. Rooms may be cancelled up to 72 hours before arrival free of charge.
Steering Committee Members:
• Dr. Ed Farley (NPAFC, NOAA Fisheries, Alaska Fisheries Science Center, United States of America)
• Ms. Livia Goodbrand (NASCO, Fisheries and Oceans Canada, Gulf Fisheries Centre, Canada)
• Dr. Emma Hatfield (NASCO Secretariat, Scotland)
• Dr. Vladimir Radchenko (NPAFC Secretariat, Canada)
• Mr. Mark Saunders (NPAFC Secretariat, Canada)
• Mr. Aidan Schubert (NPAFC Secretariat, Canada)
• Dr. Alan Walker (NASCO, Centre for Environment Fisheries and Aquaculture Science, England)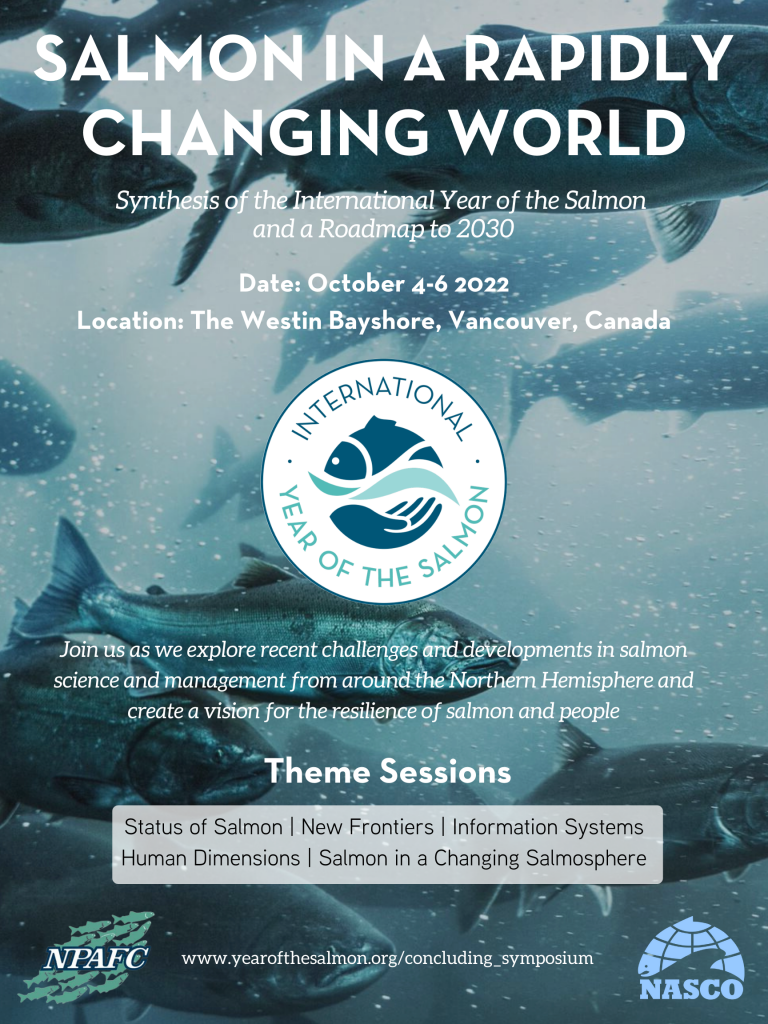 Pre-Symposium Synthesis Process
The 2022 IYS Synthesis Symposium will have a strong focus on synthesis and forward-looking perspectives. This will be crucial to ensure the knowledge gained over the five years of the IYS throughout the North Pacific and North Atlantic is adequately considered and used to produce the 'Roadmap for the resilience of salmon and people through to 2030.' The 'Roadmap' will identify critical knowledge or method gaps and potential solutions, based on the outcomes of the Symposium, and will be published in the peer-reviewed NPAFC Bulletin.
The Symposium Steering Committee intends to convene small groups of scientists that are experts in each of the sub-theme topic areas to produce synthesis papers for each sub-theme topic. The membership of these groups will be informed by the responses we receive to the call for expressions of interest. These synthesis papers will provide summaries of the current state of knowledge for a given topic and outline critical knowledge and/or method gaps that future research should prioritize.
Groups of experts will collaborate in the months leading up to the Symposium to produce these synthesis papers. These synthesis papers will be presented during the Symposium, alongside other presentations that are not produced via the aforementioned synthesis process, under each sub-theme, with the aim of publication in the NPAFC Bulletin. These syntheses will help inform the 'Roadmap.'
Synthesis papers may cover both the Pacific and Atlantic basins or focus on one basin only, depending on the topic and consensus of the scientists involved in writing each paper. We hope to convene geographically, institutionally and gender diverse groups of experts to work together on these papers. The IYS Secretariat will provide support to the groups working on synthesis papers in the months leading up to the Symposium.