2020 NORTH PACIFIC PHOTO CHALLENGE
Submit your photo and write-up to photochallenge@yearofthesalmon.org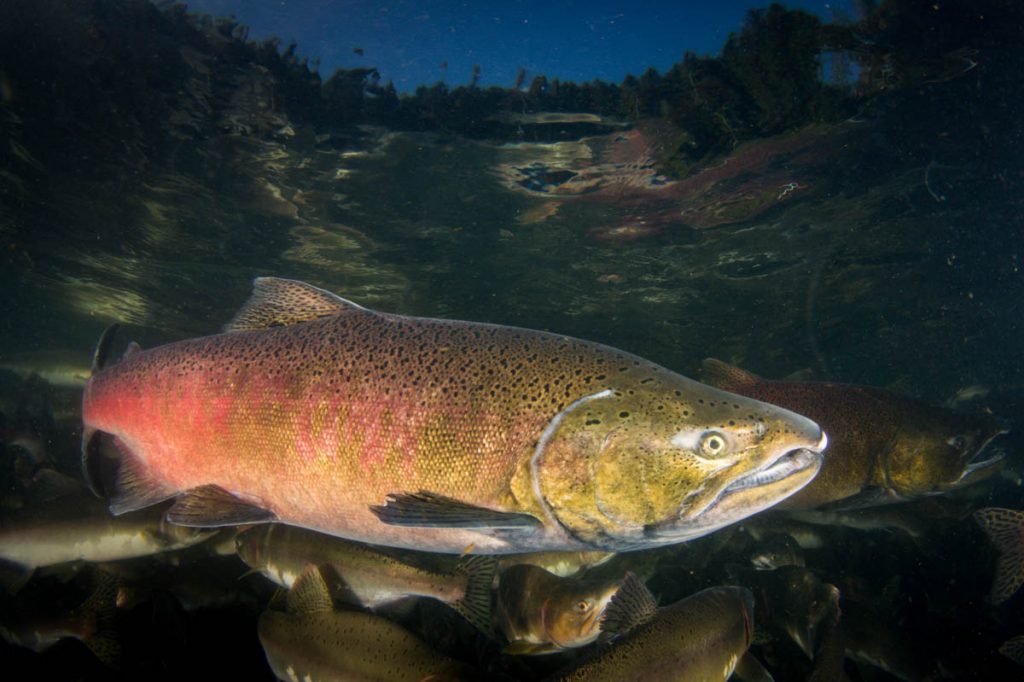 ENTER FOR A CHANCE TO WIN $500
We have been living through unprecedented times, but despite all of this one thing is for certain - that salmon will be returning to spawn. We want to know what salmon mean to your community, particularly during a time when the world is changing so fast, and when community means more than ever. Submit your photo with a short write-up (about a paragraph) of what salmon mean to your community in a changing world for a chance to win a $500 grand prize and the chance to be featured in a special International Year of the Salmon photo story. We will be working with salmon organizations throughout the Pacific Northwest to spread the word and expand our outreach on communities that are working to protect this unique species.
Extended Deadline: November 30, 2020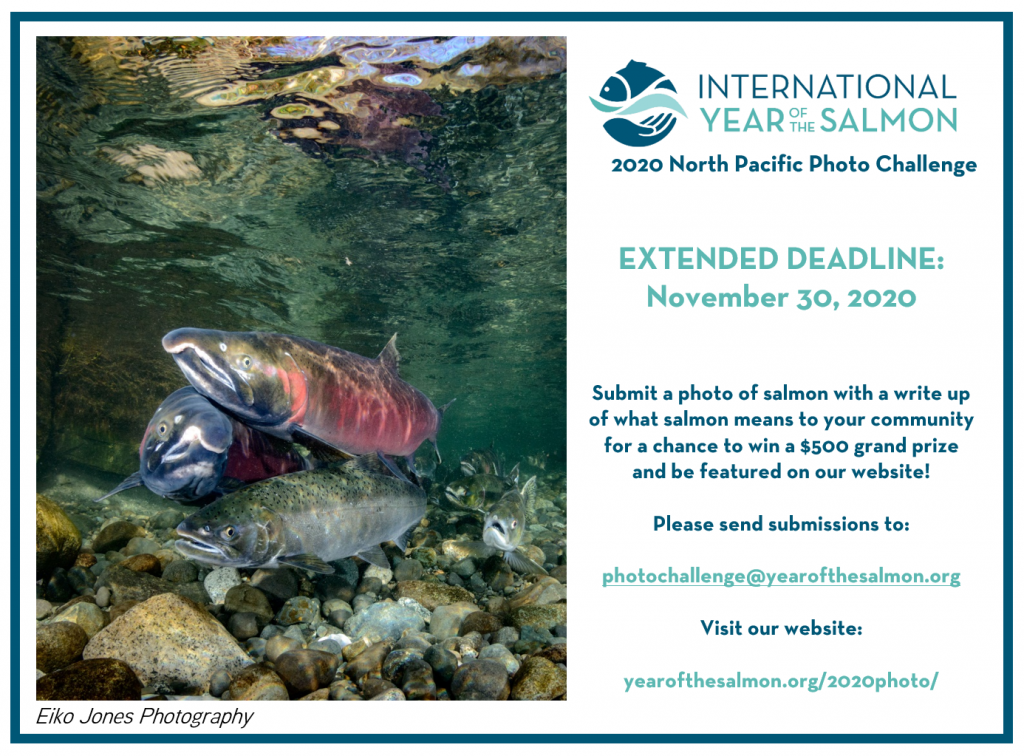 Who can enter? The Photo Contest is open to photographers of all skill levels
What to Enter: Local images of Pacific salmon in their natural habitat, with an accompanying story (1 paragraph) of what salmon means to and in that particular community and author.
Photos can also incorporate any of the 5 key themes of IYS: status of salmon, salmon in a changing salmosphere, new frontiers, human dimension, information systems, and outreach and communication. For more information on the IYS themes, visit the IYS information page on the North Pacific Anadromous Fish Commission's (NPAFC) website. Please include the location and date of the image in your photo caption. 
Images of captive animals photographed in zoos, aquariums, and aquaculture facilities are prohibited. Entrants must not infringe on the rights of any other photographer or person or submit images that involved the willful harassment of wildlife or damage to the environment by the photographer.  
It is the responsibility of the entrant to obtain model releases when necessary. Any entry which contains an identifiable model (e.g., shows the model's face or some other identifiable marker such as tattoos or birthmarks) requires the model release form to be completed and submitted alongside the photograph and entry form. The model release form used for this Photo Contest was obtained from the Canadian Association of Professional Image Creators.  
Entries must not have been previously published. If the judging panel determines that the photograph has been previously published, they reserve the right to remove the entry from the contest. A maximum of five images will be accepted per entrant.
 Image format and resolution:  Entries must all be digital images and in JPEG format. Images in other formats will not be accepted. Entries must have a resolution of 1440 x 1080 pixels. For reference, iPhone 5S takes photos at approximately 3200×2500 pixels. Finalists will be required to submit higher resolution images. Ideally Tiff or PSD files, 300dpi and at least 30 cm long on the longest dimension. Images that do not meet the minimum resolution, may or may not be judged. It is up to the judging panel's discretion.  
How to enter: Submission will be accepted via email. All submissions should be emailed to photochallenge@yearofthesalmon.org with the subject IYS Photo Challenge Submission. Submissions must include the entry form and model release, where applicable. Any questions on submission elements should be directed to photochallenge@yearofthesalmon.org.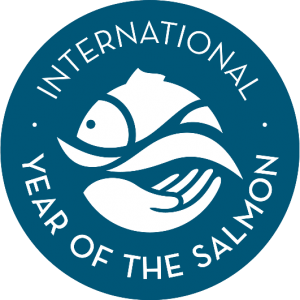 Each entrant (and his/her/their parent or guardian) is responsible for ensuring their photographic entry is submitted in accordance with these Official Rules. By entering the Photo Contest, entrants are granting to the IYS the rights and license as set out above.  
Entered photographs must not infringe upon or violate any laws or any third-party rights, including, but not limited to copyright, patent, trademark, trade secret or other proprietary rights and must not constitute material that would be considered libeling, defamatory, or a privacy violation. Each entrant (and his/her/their parent or guardian) represents and warrants that submission of the photograph does not breach any law, and further that no party can hold any claims or objection regarding the rights granted to the IYS under the Photo Contest.  
Each entrant hereby agrees to hold harmless and indemnify IYS, their members, directors, officers, employees, servants, agents, successors, assigns, executors, administrators, representatives, trustees and volunteers and all other bodies associated with them from and against any and all third-party claims, actions, demands, losses, costs, suits or proceeding of any kind from that are attributable in any way to participation in the Photo Contest or arise out of any breach or alleged breach of any of the warranties, representations or agreements of entrants.  
All taxes, fees, and surcharges on prizes are the sole responsibility of the prize winners. 
IYS is not responsible for any incorrect or inaccurate information, whether caused by website users or by any equipment or programming associated with or used in the Photo Contest, or by any technical or human error that may occur in the processing of submissions to the Photo Contest, including but not limited to any misprints or typographical errors. IYS assumes no responsibility for any error, omission, interruption, deletion, defect, unauthorized access to, or alteration of entries. IYS is not is not responsible for any problems or technical malfunction of any telephone network or lines, computer equipment, servers, providers, computer online systems, software, or failure of email account on account of technical problems or traffic congestion on the Internet or at any website, including injury or damage to participant's or to any other person's computer related to or resulting from participating or uploading images or information in the Photo Contest.