2022 Pan-Pacific Winter High Seas Expedition
The largest pan-Pacific research expedition to study the winter ecology of salmon in the North Pacific Ocean
Scientists from Canada, Japan, the Republic of Korea, the Russian Federation, and the United States continue their research on the winter ecology of Pacific salmon in a collaborative international effort spanning the entire North Pacific Ocean 
For decades, the people that depend on salmon have been grappling with a rapidly changing climate which has caused unpredictable changes in salmon productivity across the North Pacific. Due to anthropogenic pressures on ecosystems and associated anomalous events in the North Pacific Ocean, Pacific salmon are progressively being exposed to conditions outside normal climate cycles. Pacific salmon are a uniquely important resource for countries across the North Pacific, but there remain significant gaps in our understanding of the mechanisms that regulate salmon distribution and survival in coastal and especially in high seas environments. Since salmon cross ecosystem and international boundaries as they migrate across the North Pacific, a concerted international effort is imperative to improve our knowledge about  the conditions Pacific salmon face in the open ocean.  By furthering our understanding of the ocean phase of the salmon life cycle, we can improve our efforts to assess, forecast and manage salmon into the future to build resiliency for salmon and the people that depend on them. 
In a major effort to fill our gaps in knowledge, as many as five research vessels will go out to sea in late winter 2022 to conduct the largest ever pan-Pacific, epipelagic ecosystem survey during winter, focused on understanding salmon and their ecosystems. The 2022 Expedition will involve a full ecosystem survey with pelagic trawling and detailed sampling of marine life in the upper ocean and will include research on physical, biological and chemical oceanography. There will also be a gillnet vessel deployed in the Gulf of Alaska, alongside the ships that will be trawling, to test the catch efficiency of different gear types. Novel technologies such as gliders, environmental DNA and genetic stock identification will be used to enhance research efforts. The 2022 Expedition will bring together scientists from Canada, Japan, the Republic of Korea, the Russian Federation, and the United States — the five member countries of the North Pacific Anadromous Fish Commission (NPAFC) — to build on research from the 2019 & 2020 International Gulf of Alaska Expeditions.  
The major objective of the 2022 Expedition is to demonstrate the utility of an international pan-Pacific winter ecosystem survey to understand how increasingly extreme climate variability in the North Pacific Ocean and the associated changes in the physical environment influence the abundance, distribution, migration, growth, fitness and survival of Pacific salmon and surrounding species. 
Click on vessel images to learn more about each vessel!
Hover mouse over images for captions!
Read about our 2022 Expedition in the Washington Post!
Virtual Technical Briefing for the Official Launch of Canadian Vessels the CCGS Sir John Franklin and the F/V Raw Spirit
Virtual Technical Briefing for the Official Launch of American Vessel the NOAA Bell M. Shimada
Follow us on social media:
Zone Maps for the 2022 Pan-Pacific Winter High Seas Expedition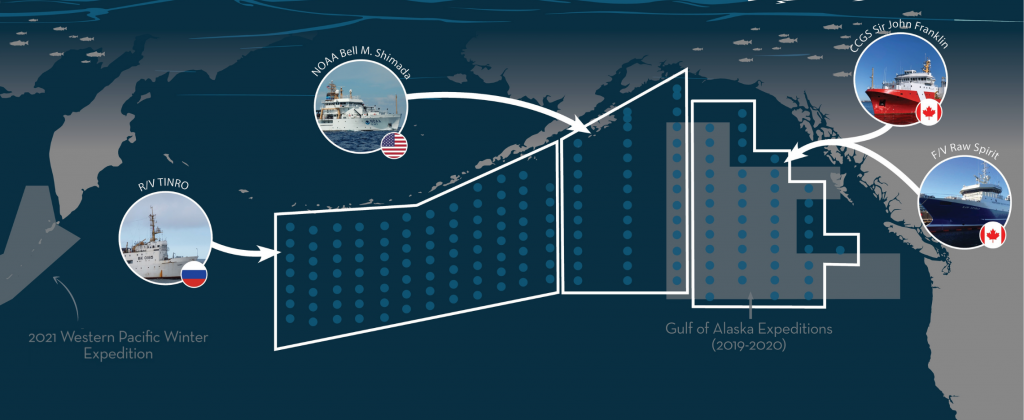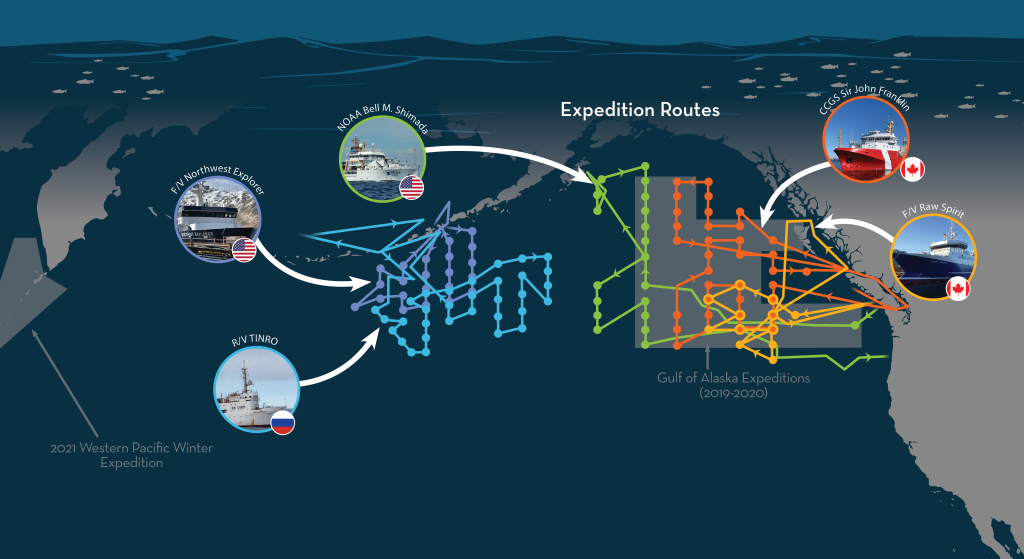 Thank you to our partners!
This is your chance to join like-minded people across the Northern Hemisphere to make a difference.
Register your salmon events or projects with us.