The Raw Spirit was built in 1998 in Harstad, Norway and designed by naval architects Atalantconsult A/S. The Raw Spirit (then Nordfjordtral) was originally built to fish groundfish — primarily cod in the Barents and North Sea and shrimp off the coast of eastern Greenland. She performed admirably in these fisheries gaining a reputation among North Atlantic fishermen as one of the finest sea-keeping vessels in her size class.
In 2013 the vessel was sold by the Norwegian company Aker Seafoods AS to the newly formed Independent Seafood Canada Corp (ISCC). After acquisition by ISCC she sailed to Akuari, Iceland for retrofitting to be able to fish in the Canadian west coast fisheries for Pacific whiting, walleye pollock and arrowtooth flounder. This retrofit included extensive modernization of bridge electronics, fish finding technologies and a refrigeration system, as well as a complete rebuilding of the fish-room to be able to store up to 70 metric tonnes of product per 24 hours in horizontal freezers.
Since arrival in Canada, she has proved herself to be one of the highest producing fishing vessels in the country. To this day she continues to operate reliably, safely, and economically in our west coast fisheries, receiving many more updates and upgrades on an ongoing basis. Presently the Raw Spirit is registered at 931 GT, 43.5 m LOA and can accommodate a maximum of 28 crew.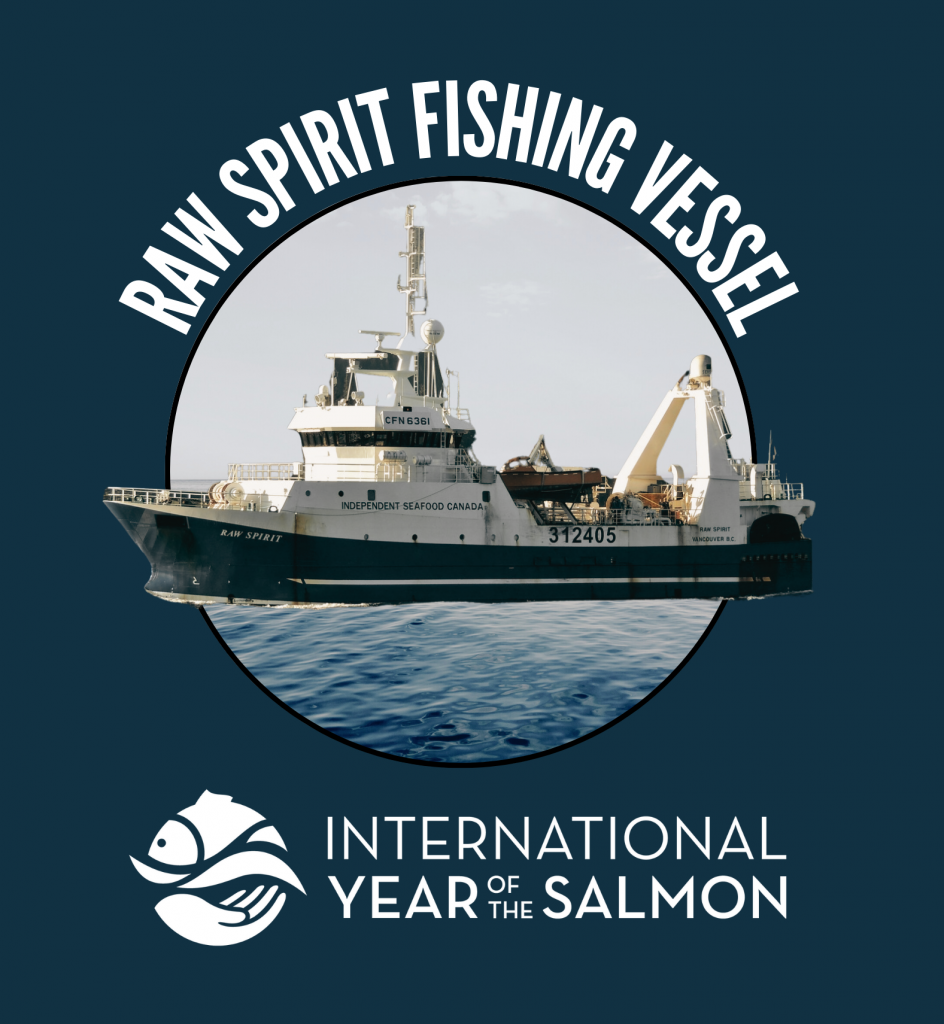 Click on photo gallery to enlarge images!
Meet the fascinating team on board the Canadian fishing vessel the Raw Spirit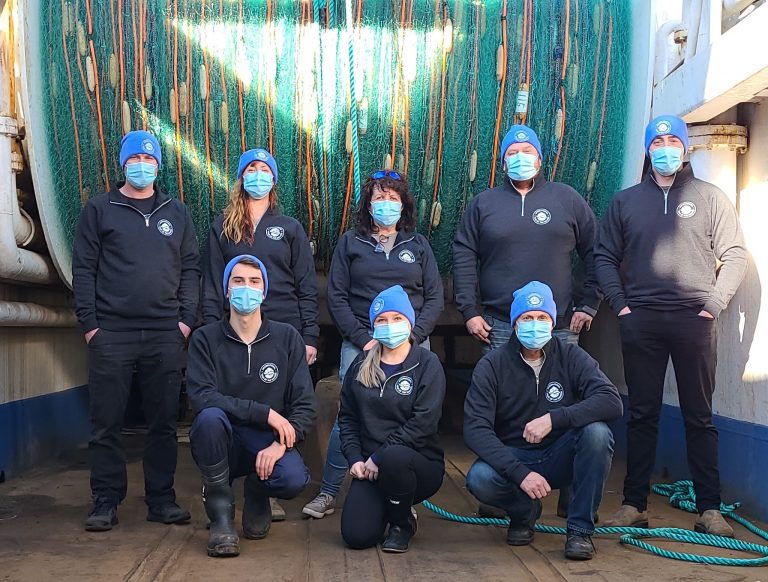 How do we Prevent Losing a Gillnet at Sea?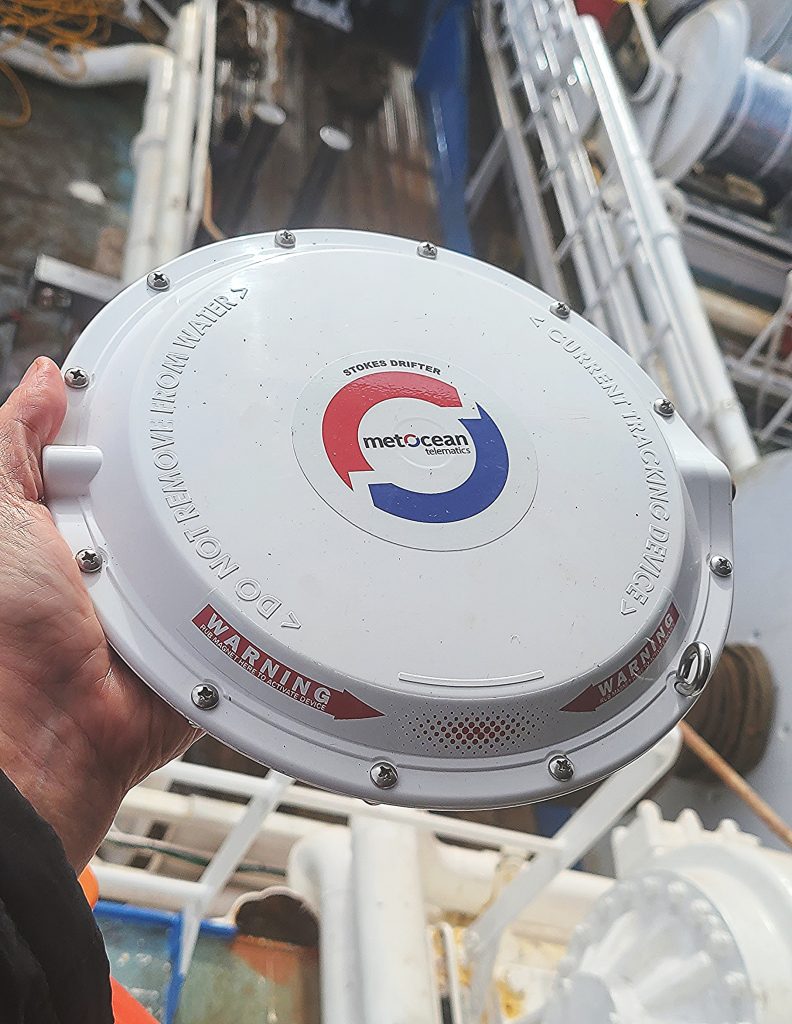 The application of gillnets to study Pacific salmon in the ocean is not new but is seldom used today due to concerns about bi-catch and ghost nets (nets lost at sea that could still be fishing). Gillnets are being used in this study to provide an independent sampling gear to compare with catches collected by surface trawl nets being used by the other IYS participants; and to enable comparisons with past research in the North Pacific.  But how are we addressing concerns for bi-catch and the possibility of losing a net? 
A Canadian innovation, provided by MetOcean Telematics (Dartmouth, Nova Scotia), is being used to minimize any risk of losing a net (the STOKES drifter buoy (photo)). Drifters are attached to each end of each net to monitor its drift while fishing and to ensure that the ship can locate the drifter within meters via satellite communications and GPS positioning.  This tool also provides tracks of the net while it fishes and samples surface temperatures simultaneously.  Bi-catch is more difficult to address but is limited by using just two nets of shorter length and limiting fishing times.  All bi-catch will be included in reports from this research.
The small light-weight STOKES drifter is equipped with Iridium satellite telemetry, GPS positioning, and a sea surface temperature sensor.  Iridium is a communication system using the Iridium satellite constellation, a system of 66 active satellites used for worldwide voice and data communication provided by Iridium Communications Inc.  Iridium allows the buoy to have bi-directional capabilities … for example, if the buoy enters a region of interest the end-user can communicate with a unit by sending it a command to change reporting intervals or request essential time sensitive data.
MetOcean Telematics corporate headquarters, including the research and development and production facilities, are located in Dartmouth, Nova Scotia, Canada.  For additional information about MetOcean Telematics or any of its products, please contact sales@metocean.com. 
Raw Spirit Survey Details
Departure from Port Alberni BC – February 23, 2022
Transit to Zone 5 and conduct first leg of integrated oceanographic and gillnet survey – February 23 to March 5, 2022   
Stop in location that is still to be determined halfway through for resupply– March 6-7, 2022          
Transit to Zone 5 and conduct second leg of integrated survey—– March 8 to March 20, 2022     
Return to Port Alberni BC – March 22, 2022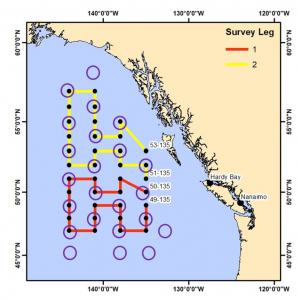 The survey area will be in the Gulf of Alaska and generally in the survey area of the Canadian vessel CCGS Sir John Franklin (Figure 1 – purple circles mark the Raw Spirit stations). The survey will start from Port Alberni on February 23 and continue for about four weeks with a refueling port stop in the middle. Sampling stations also depend on weather. The gillnet sampling locations outside of the zone 5 trawl zone are based on experiences in 2019 and 2020 and are specifically to assess pink salmon in southern areas and sockeye salmon in the north. All catch (fish and other) will be recorded and reported.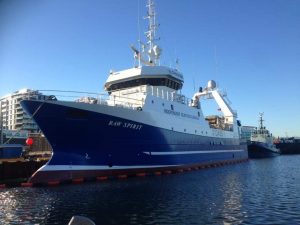 Name:  Raw Spirit 
Gross Tonnage:  672
Length (m): 43
Maximum Speed: 12.3 knots
Year Launched: 1998
Home Port: Port Alberni, British Columbia
Flag: Canada
Scientific Equipment on Board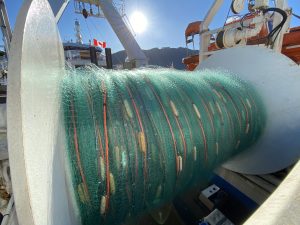 Standard research gillnets consist of variable mesh-sizes (C-gear: 3 tans each of 48, 55, 63, 72, 82, 93, 106, 121, 138, and 157 mm) combined with panels of 'commercial' gillnets (A-gear: 19 tans of 115 mm mesh size). One tan is 50 m long, and then the total gillnet length is 2,450 m, which is within regulation. Three sets of gillnets have been manufactured by the Nichimo Company, in Tokyo, Japan.  
The depth of gillnets is about 7 m when fully extended but the depth of fishing will vary with the currents experienced. The effective depth of fishing may be 2.5 m to 4 m and will be measured routinely using RBR depth meters (recording temperature and depth of the lead line).   
Two gillnets will be set per night from dusk to approximately midnight (0:00 hr).  Catch will be recorded by panel/mesh size in each net.  Each net will have an AIS transponder and lights attached to ensure the vessel can track each net. 
Thank you to our partners!